Hi Everyone!
As many of you know, I have paused my business since early March. Other than meeting people via Zoom and Facetime, I decided I needed to press pause on any home showings or listings. In this post I want to explain how I have processed this pandemic from the start to current day, then reveal my new buyer process.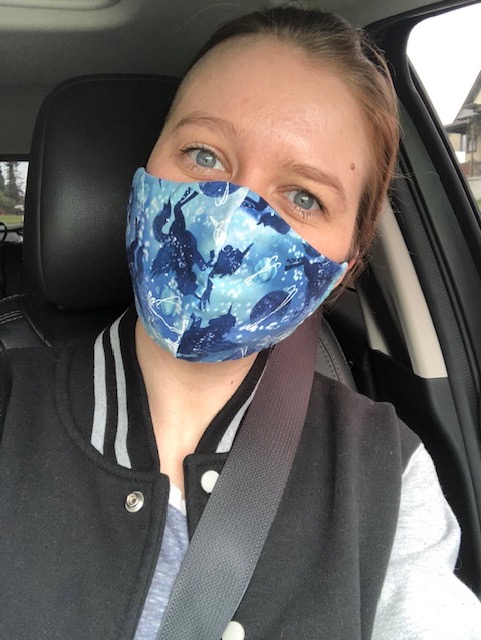 Pretty mask made by awesome sister! 
At the onset of all of this, I thought it was important to find out more information about the virus and process all of the changes that were flooding my inbox before trying to do any in-person work or help new clients. New COVID-specific addendums were rolling out daily. Lists of vendors that could and could not work were changing daily. Too much was in flux for me to feel I could give new buyers a sense of how to prepare and what to expect. With limited information on how the virus was spreading, I was not confident in my ability to keep myself and my clients safe. While people were taking in all of the new information, I had some heart-to-heart talks with clients who were starting to feel rushed out of fear. I don't advocate for people to buy or sell out of fear. It is okay to take time to process, and I felt that I needed to practice what I preached and pause myself.
As far as protective equipment goes, I did not have a stockpile of any disinfectant sprays, wipes, etc. (as someone who usually uses natural cleaning products!) and did not own any masks. I did not feel I could work safely. At the onset of this, many of my clients hadn't yet processed what was happening, and I was still processing as well… as many people can probably relate. I have never been a Realtor during a pandemic before – it has been a lot to take in!
Another reason I paused that I want to be transparent about is that I don't think my industry is essential. It was my belief that unless you were already under contract for a home sale or purchase, we all should have paused for a month (even a couple of weeks!), while more information about the virus was released. If there was a true exception to be made due to hardship, I would have liked to see a process for applying for an exception.
As someone who knows folks working in hospitals and other truly essential environments, I was embarrassed and frustrated by our industries lack of pause, and our quickness to argue why we were just as urgently needed as other industries. In addition to that, I didn't believe it was a fair and equitable housing market for agents or their clients. Many Realtors are in a high risk age range, making it much more risky for solo agents to conduct business than those with younger buyer agents working under them (a whole other issue I won't go into in this post!). I  truly felt it wasn't safe for people to go right back to in-person meetings.
While processing the onset of a deadly virus, the people who wanted to respect the stay at home orders and not go look at homes, arguably could have "missed out" on homes that some agents and clients saw as their "opportunity." I am not naive – I understand that these things have happened before the pandemic, especially in our capitalist society. One person's loss is another person's gain or opportunity. However, it did not sit right with me to engage in that. I believe a pause should have been enforced as more information was gathered, released, and processed.
Since March, I have lost some business, but I have received an overwhelming amount of support and understanding from clients, vendors, colleagues, family, and friends. Thank you. At the end of the day, I feel at peace with my decision to pause, and feel more confident and prepared to enter back into the real estate game this month! To see my buyer process, click here!